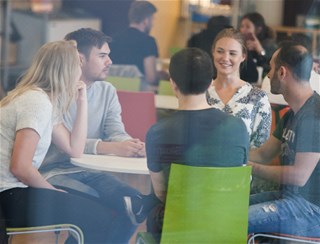 Welcome to University West
Below you will find information to help introduce you to life as a student at the University West. Being a new student can sometimes be quite overwhelming and we want to help you support you in getting the most out of your stay here - academically and socially.
Campus at University West
The campus is located in the heart of the city within walking distance of local services such as shops, restaurants, banks, supermarkets and the main bus and train stations. Public transportation within Trollhättan is both safe and reliable and the journey by train to Gothenburg takes you approximately 38 minutes.
The campus is well equipped and has plenty of open areas. Group rooms provide opportunities for group work and to study on your own. There is room for sports and drama exercises, as well as a media section known as the Creative Center.
On a small campus, interaction with other students, faculty, and townspeople is natural. International students make friends with other international students very quickly and the Swedish students are very welcoming as well.
Study Landscapes and Library
The campus has four study landscapes, they are located next door to the teachers' offices to increase contacts between students and teachers and others coworkers at the university.
In the landscapes you will find computer rooms, locker rooms, group rooms and student kitchenettes with seating. In the student kitchenettes you can store and heat up food.
Campus dining
The Restaurant Västan is located in the center of the campus. Restaurant Västan serves lunch, three different dishes a day and also soup and vegetarian alternatives. At campus there is also a Student Café, serving light lunches and salads as well as home cooking.
Library services
The library area is a natural meeting point and workplace at the university and serves as a qualified information center for students and staff at the university. Their staff can assist you on how to use and find information, on how to use library resources and to provide study spaces to suit your needs.
Here you will find:
More than 180 study places in the library
Access to more than 70 computer study places
Sections with seating for study or just relaxation
Multifunctional printers for printing and copying
6 group study rooms, including four with computer
Quiet reading room with 30 seats
You will also find Cogito, the flexible study area by the group study rooms where you have the ability to find support in study techniques, Academic writing and Mathematics or pharmaceptical calculation during certain hours.
The general public is also welcome to use the library and its resources.
Digital library
Read reliable, academic information. The library has print and online collections which encompass books, e-books, electronic journals, newspapers, multimedia and a range of other e-resources such as marketing reports.
Book group study room
The library's six group study rooms are booked in the same system as the University group study rooms which are bookable via schema.hv.se.
Student Bookstore
At Gregarts Student bookstore it is easy to buy and sell books. We provide both new and used textbooks and can help you to sell these when you no longer need them. You find the bookstore at the second floor in the D-building (D205).
Media Center
Creative Center is a media center and a gathering place where you test and develop creation and creative elements within your education.
In Creative Centre's lounge there is ongoing exhibits of student work and projects, here you can sit down, have a cup of coffee and look at students work. The Creative Center has creative space and equippment. The center has tools for your creative process, including still and video cameras for students and staff to borrow. There's even a studio space with lights and backdrop you can reserve. Email them at Mediepool.
You find the Creative Center in the University Entrance - the G and H-house. Students studying Digital Media immerses in media projects when they are editing video and audio, often in collaboration with external clients. Students studying to be teachers houses the Drama room when they have drama classes and conflict management exercises. 3D Animation students creates sketchbooks containing photography, paintings, drawings and other mixed media works. Some of their work is presented in this area. They work with current animation software, techniques and tools used throughout industry today, showcase their work and begin the professional networking process.
Activities
Check out rewarding and fun groups and activities. Explore your options, and find out where to go for everything.
University life has much to offer, from meeting up with friends at the student pub to attending events and cultural activities. The Student Union (SHV) and the Service Center are doing their best to make you feel at home.
Read an interview with one of our international students, Marc from South Africa.
Health
Find Student Health Services to help you stay healthy – emotionally, mentally and physically – so you can make the most of your time at the University West.
Career prep
It's never too early to prepare for your next step. Discover resources and services at the Career Center and within your academic department.
The City of Trollhättan
Smaller towns with ambition and spirit are nice. You are not crowded here and you can be a part of things like family-friendly activities, have lower costs of living, more affordable housing, and less time spent sitting in traffic or commuting.

Not far from Trollhättan, you will find Lake Vänern, the largest lake in Sweden, and just a short trip away there is Gothenburg on the west coast, Gothenburg is the second largest city in Sweden.

Since the campus is located in the town center, it is close to shops, restaurants, cinema, and fitness. The city offers an active cultural and sports life . The attractive fall- and locks area around the canal in Trollhättan is widely known for its beautiful environment to stroll in, or just to sit, enjoy the view as boats and people pass.
Why study abroad?
Take this opportunity to study and learn about new cultures. Studying abroad is an experience unlike any other.
For most students, this time may be the only opportunity they ever get to travel abroad for a long period of time. Eventually you will find a job and career, and the opportunity to study abroad may turn out to be a once in a life time opportunity.