Inclusive Internationalization
Fast Track for university teachers and researchers.
Together with the University of Gothenburg, Chalmers University of Technology, University of Borås and University of Skövde we are involved in a project for newcomers with a refugee background. The aim is to shorten the path to either finish a PhD-education or to a career within higher education. This is favourable for both the refugee participants and for Swedish universities, who can benefit from the high competence possessed by the particpants.
Three parts
The project is formed as a fast-track and targets refugees who have not been in Sweden for more than five years, currently living in Sweden and have completed or started PhD-education from outside of Sweden. After completing the program, participants shall have a clear picture of how they can proceed within the Swedish academia.

The program consists of three parts that will run in parallel during the project period:
Training; for example language courses, research funding, publications and open access, academic writing, pedagogical development and training
Personal and professional development including career guidance
Academic mentoring program
The project is funded by The Swedish Foundation for International Cooperation in Research and Higher Education (STINT) within the call for "Grants for Integration and Internationalisation".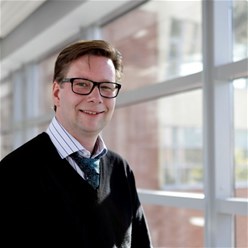 The first researcher in fast track has arrived