You connect your classroom through Zoom on your own computer and use the classroom's audio and video equipment. For this to work properly, you need to check a number of settings and follow the procedure below. NOTE! Remember to follow the procedure below to ensure that all equipment is started correctly and can work with your computer.
Your computer
Insert HDMI cable
Insert blue USB cable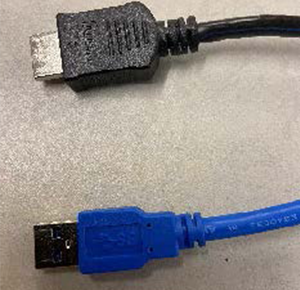 Screen settings
For PC: Press Windows button + P - choose extend
For MAC: Press Apple symbol - System preferences - Dispalys - Arrangement
Wall panel
Press the green button, HDMI, for displaying the computer screen on the projector screen.  
Press any of the blue buttons, Camera positions, for activating the camera. 
Zoom
Log in to the online meeting and check audio- and camera settings
Audio settings
Microphone: Mic (USB Capture HDMI + Mic) 
Speaker: InFocus3128D
Microphone
The microphone is a table microphone and it should be placed towards you as the picture shows. 
Camera setting
Camera control
There are two presets on the wall panel. Press repeatedly for the desired camera position.
Button 1 - Camera positions Teacher: Overview, Sitting by the desk, Standing by the table
Button 2 - Camera positions Whiteboard: Whiteboard from left to right, Projector canvas.
Powerpoint
Start the presentation 
 
To show a presentation both to the participants in the classroom and to the participants online, share the presentation in Zoom. Select Share and Screen 2 (MAC: Desktop 2). 
Screen 2 is the same as the projector screen. This is important to think about when you use Presenter View.  The slideshow is then displayed for the participants in the classroom as well as for the participants online and on your laptop, Presenter View is displayed with your notes.  
(If you do not use Presenter View, the edit mode will be displayed) 
 
If you do not see Screen 2 in Zoom when sharing, check that the  
computer is in extend mode and that the system is in HDMI mode.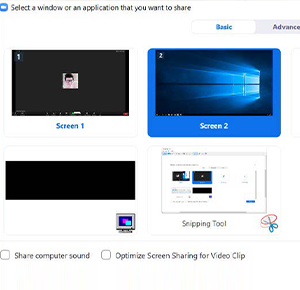 To end
Leave the online meeting and turn off the system by pressing the red button Off on the wall panel.