20 Dec 2017
"'We fled for the sake of our children, now we fear to lose them"
The art of being a parent in a foreign culture. The challenge to navigate among unknown rules for child support. This was the theme for an interesting seminar at Restad Gård, arranged by the Support Group and University West on December 11.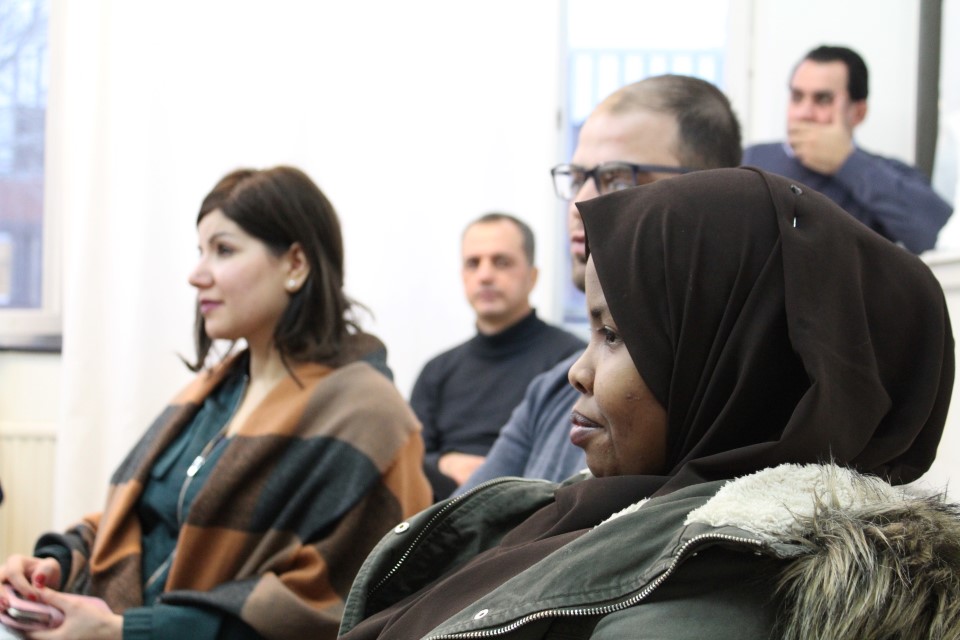 'We came here to give our children a future and we've lost everything we had in our homelands. Now we fear to lose our children as well."
This is how some asylum seeking families describe their situation as they navigate among Swedish values and rules for parenting and child support.
– Of course, the parents' love their children and want their best, but they feel that their ways of raising their children is not accepted in Sweden, says Inam Alghoul, project manager at Support Group. They feel that they are bad parents. They worry about the risk of their children being taken into custody by the social authorities.
- Conflicts easily arouse between children and their parents, when the children learn about their rights and about the Swedish culture in school. The parents, on the other hand, are stressed because the lack knowledge about Swedish culture and parenting rules, explains Inam Alghoul.
Parenting courses
Rädda Barnen and Support Group arrange parenting courses to support and guide newly arrived parents. For two days, mothers and fathers learn more about Swedish laws, norms and culture in terms of child support and parenting. So far, 200 families have taken the course.
The course is not about teaching the parents what is right and wrong as they bring up children. Instead, knowledge and understanding will help them to find own new methods for child support. Another aim is to make the parents feel confident in their parenting.
- We have stressed the need of both parents participating in the courses, and that has been highly appreciated by the fathers. One of the dads told us that he, for the first time ever, was able to talk to other parents about child support during the course, says Adnan Abdul Ghani, project leader at Rädda Barnen.
– A common opinion in his homeland is that such issues should be kept within the family, says Adnan Abdul Ghani.
Research about parenting in nine countries
The seminar was attended by about 30 parents living at Restad Gård, who came to listen and discuss parenting matters. It was also visited also by child psychologists, personnel from the social welfare office, the Student health department (Elevhälsan) and from health care institutions.
Emma Sorbring, Professor of Child and Youth studies at University West, shared information about the international research project on children adjustment and parenting that she participates in.
- In this study children and parents from nine countries are interviewed about their views on raising children, says Emma Sorbring. In total, 1,400 families from Columbia, the Philippines, Italy, Jordan, Kenya, China, Sweden, Thailand and the USA participate in the study.
- The aim is to investigate cultural differences and similarities when it comes to parents' and childrens' ideas about children adjustment. The study is about being a parent in a native country, not in a foreign culture.
Culture differences creates family conflicts
The research project started in 2008 when the children were eight years old and it proceeds until 2021 when they are 21. Emma Sorbring talked about how culture differences in a new country effects the entire family.
- The children bring new culture values home to their parents. The parents learn new things through their children, and that sometimes causes conflicts. But these kinds of conflicts in everyday life occur in all families whether they are migrants or not.
- Conflicts are part of the development of children. It helps them to understand how to argue and how to deal with conflicts. But sometimes it can be hard for the parents to know if it's an everyday life conflict or if it's a deeper value conflict.
- Experiences from other parenting educations show that the parent's confidence is enhanced when they learn about parenting in their new homeland.
About the Swedish school system
Helena Korp, researcher and teacher at University West, talked about the setup of the Swedish school system and about the challenge of validating the knowledge that newly arrived children have.
- Some children might have knowledge in e.g., mathematics, even though they haven't attended school. In order to make education meaningful it's crucial to provide it at the right level, explains Helena Korp.
Finally, the audience had a "fika-break" and time to discuss parenting issues in groups.
Content with the collaboration
Adnan Abdul Ghani was very content with the seminar and with the attendance despite the arrival of winter colds and other illnesses.
- We really appreciate the collaboration with University West. It's important to bring a research perspective on the issues we deal with in Support Group. Furthermore, today's session is the first in a series of seminars that we're arranging together with University West.
Text and photo: Christina Axelson