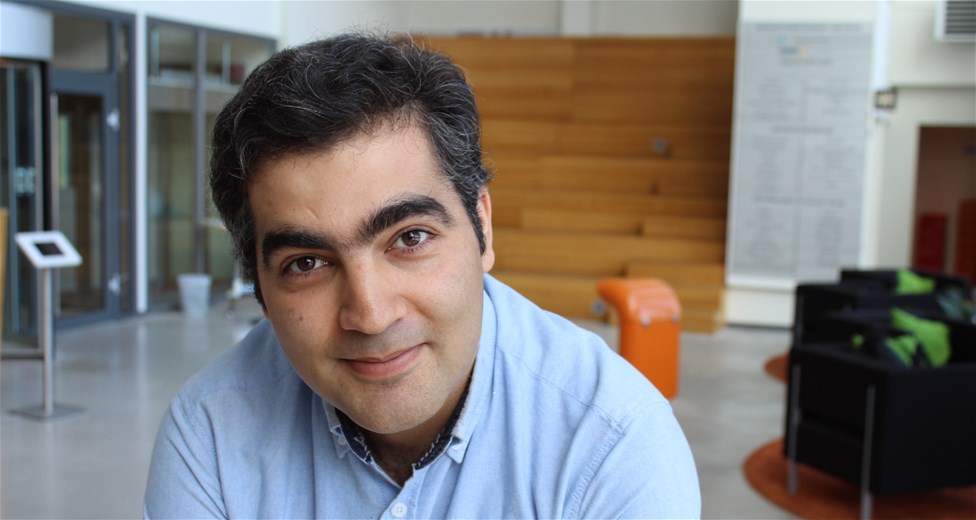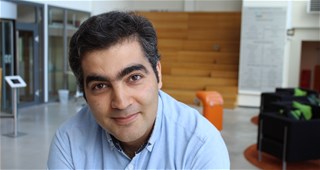 12 Jul 2018
Corrosion protection with positive effects on climate change and economy
Successful struggle against corrosion can add effectively to both climate change and public economy. This is shown by Esmaeil Sadeghimeresht in his thesis for a doctorate on 'Ni-based coatings for high temperature corrosion protection'. Real-life studies are already going on at Trollhättan Energi's thermal power station in Trollhättan.
When Esmaeil Sadeghimeresht talks about his research he takes two fundamental issues as a starting point.
One is economy.
– Corrosion causes society huge costs, he says. Annually in Sweden they reach roughly 4 percent of the Swedish GDP, equal to around SEK 200 billion.
The second issue is climate.
– Because of its CO2-neutrality it is good to use biomass and waste as fuel in thermal power stations. The drawback is that the materials in today's power stations can't withstand the aggressive gases that generate from burning these fuels.
Was encouraged to study
In his homeland Iran, Esmaeil was intensely encouraged by above all his father to study. 'To reach a better position in the future', he said.
Esmaeil's big interest became materials technology.
– Materials are everywhere around us. Moreover, it is a multidisciplinary area. If you for instance develop a sensor, you need to know about materials as well as electronics.
– In Iran I chose to focus on corrosion because it is a vital issue for e.g., the marine industry and for platforms in the oil industry.
In his master studies Esmaeil Sadeghimeresht focused on corrosion on gas steel pipelines. He had to build his own corrosion test facilities and because of the sanctions against Iran it was very hard for him to get access to advanced equipment.
Biomass for producing heat
After getting his master's degree Esmaeil came to Sweden and University West. Here both the public economy and climate aspects of corrosion ranked high on his agenda.
He wants to improve corrosion protection when combusting at high temperatures and in aggressive environments. Then it would be possible to lower CO2 emissions by using biomass and waste as fuel.
– Biomass and waste are renewable energies and we need to deal with them carefully in order to minimize environmental impact.
– The difficulty with both fuels is that they generate aggressive gases. The gases contain chloride and chlorine that constitute corrosive ashes covering the components in the incinerators. This causes fast deterioration of the exposed parts.
Because of the short lifetime of the incinerator parts, the burning of biomass and waste lead to extensive maintenance needs and high costs. Methods like e.g., lowering the burning temperature or using advanced steels have proven to be too expensive.
Coating against aggressive gases
Esmaeil Sadeghimeresht's solution is to coat all exposed parts of the inner structures with a layer that withstands aggressive gases. In his research he combines his own corrosion expertise with the highly specialized knowledge on thermal spray at University West.
– I have developed a dense and adherent Ni-based coating that is sprayed on all critical load-bearing components such as water-wall and superheater tubes. Thanks to the coating, these parts acquire much higher corrosion resistance. Furthermore, the new coating allows for raising combustion temperature. The higher temperature is an advantage because it increases the plants' thermal or electrical efficiency.
– Yet another advantage with the Ni-based thermal coating is that both the material and the spraying method are relatively cheap.
Promising results
Laboratory tests with a number of different Ni-based configurations used in aggressive environments have shown promising results. In addition, real-life tests are currently ongoing at Trollhättan Energi's thermal power station in Trollhättan. Partners, apart from Trollhättan Energi, are the companies BillerudKorsnäs, Borås Energi, MH Engineering, Sandvik and Valmet.
Esmaeil Sadeghimeresht sees possibilities in using his concept in other applications.
– It works everywhere where you combust at high temperatures and in aggressive environments. Gas turbines are one example. An interesting aspect is that you can optimize the design of the Ni-based coatings to meet varying needs for corrosion protection.
Additive manufacturing in corrosive environments
Now that Esmaeil has presented his thesis, he will take the next step. He will stay at University West for another two years to study additive manufacturing in corrosive environments, especially at the high temperatures that are typical for gas turbines.