04 Sep 2017
European engineering students create visions for the future
The premises where the nearly 40 engineering students is full of creativity. The groups of students are held in different parts of the premises. One of the groups is at the stage. One of the students shows cool technical images to the others to create new inspiring ideas. It succeeds and spontaneous ideas are presented.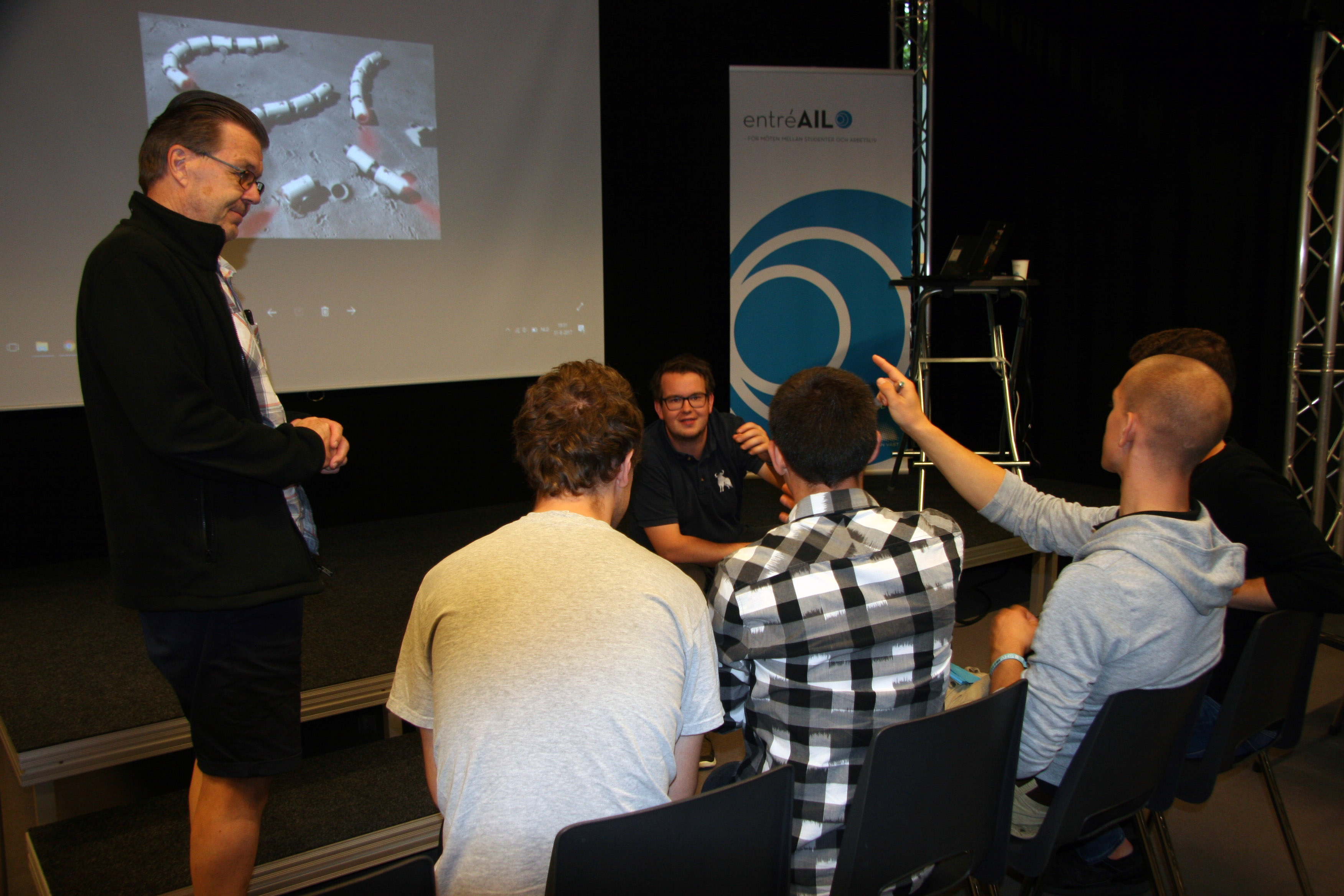 One of the teachers at University West, Kenneth Eriksson, together with some of the students.
Just thinking visionary is one of the goals of this two week long intensive education - Engineering Visions - with participants from six countries in Europe. Samuel Silver Moos is one of the students at the stage. He is from Switzerland and will soon begin his fourth year in Systems Engineering. He is enthusiastic so far and sees many benefits of attending:
- My aim is to get a job where I travel a lot. I want to get experience from other countries and meet other cultures. It's something you can only learn if you experience it and not in the school bench.
Robin Billett agrees. He is studying Mechanical Engineering at University West.
- To meet others who study similar topics is fun and useful. I think I will benefit from meeting other cultures and get to know what's happening in different situations. Then it's great to get the chance to practice technical English.

Both also think the content is good - with the visionary in focus and that it is not so task-driven within certain given limits.
- It's incredibly creative and that you need to practice. You are used to having a firm task to stay within. But here companies we "work" for appreciate our little crazy ideas about the future.
Fuel station on the moon
Niklas Ericsson and Kenneth Eriksson, two of the three managers at the University West, are also in place. The third teacher from University West, Anneli Martin, is preparing her presentation on poster design. It is the fifth time that the University is participating, and thus hosted this time, and they have visited Poland, Switzerland, the Netherlands and Germany earlier. The content is a mix of inspirational lectures and visits, social activities and a larger project work often in collaboration with a company. This time GKN Aerospace, NEVS, the Municipality of Trollhättan and RUAG Space are participating. The theme is durability.
- For example, GKN has asked students to look at the possibilities of creating a fuel station on the moon. There, you should be able to land your craft, tank, and then drive on to Mars. A most exiting thought, says Kenneth Eriksson.
A step towards foreign studies
In addition, there are teachers from the other students' institutions. Several of them have been involved all five years, as well as Niklas, Kenneth and Anneli. The fact that they spend two weeks of their summer leave on this shows great commitment.
- It gives me a lot of personal but is also valuable for every student and university. There are many examples of spin-off effects. It may be a step towards further foreign studies, longer teacher exchanges, research collaboration, scientific articles or new collaborations between universities and countries, says Martin Löffler-Mang, teacher from Hochschule für Technik and Wirtschaft des Saarlandes in Saarbrücken, Germany.
Martin also wants to emphasize the purpose of Engineering Visions where the goal is threefold: to learn to work in international teams, to a given task present a vision and to reflect on and improve their personal abilities.
- All three are important, but the task of finding a result is subordinate. The other two are probably more important. Many of the previously students have pointed to the social aspect and that they create relationships they carry throughout their lives, both in a private aspect but also in their future professional lives.
Associate Universities:
- University West, Trollhättan
- Lodz University of Technology, Lodz, Poland
- NTB Fachhochschule Ostschweiz, Buchs, Switzerland
- Saxion University of Applied Sciences, Enschede, The Netherlands
- Hochschule für Technik und Wirtschaft des Saarlandes, Saarbrücken, Germany
- Glasgow Caledonian University, Glasgow, Scotland
Contact:
Niklas Ericsson, niklas.ericsson@hv.se
Kenneth Eriksson, kenneth.eriksson@hv.se
Anneli Martin, anneli.martin@hv.se
Text and photo: Anna Hallberg