17 Oct 2018
Extended use of stainless steels with extremely good properties
Duplex stainless steels are excellent choices in designs with high demands in terms of strength, corrosion-resistance and low weight. Despite their advantages these steels are only used to a limited extent because they are more complicated to weld than traditional stainless grades. But solutions of great importance are on the way. These are presented in a PhD thesis by Vahid Hosseini at University West.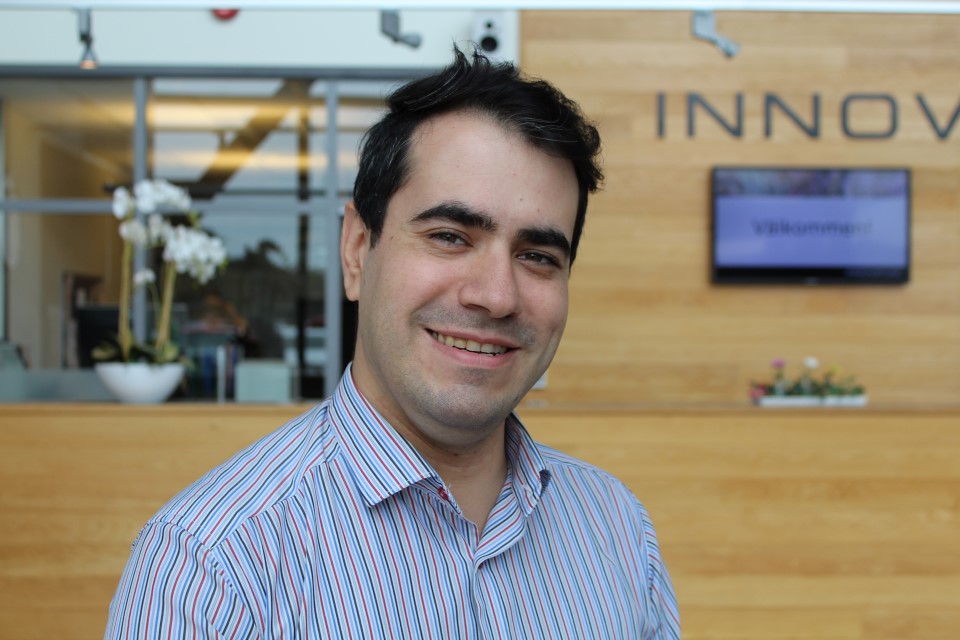 Vahid Hosseini, Ph D at University West
Duplex stainless steels function very well under conditions where material stress in highly corrosive environments is extremely challenging. Because of these advantages the oil-, gas- and chemical industries have used such steels for decades. Tanks, pipelines and weight-sensitive steel constructions on oil rigs represent a few fields of application. In other businesses the spread of duplex stainless steels is considerably smaller. The development is held back by technical difficulties when it comes to welding, particularly for thicker structures in super duplex stainless steel.
Solve welding problems
All the crucial duplex stainless steel properties may literally go up in smoke if welding is done the wrong way.
– My research project is about finding solutions to these problems, says Vahid Hosseini. We will develop, document and compile knowledge digitally to make it accessible and practically useful. This will pave the way for welding engineers to design defect-free welds.
Broad metallurgic skills
The project suits Vahid perfectly. He was born and grew up in Teheran.
– That was also where I pursued my university studies in materials science and engineering. During my master degree education at Sharif University of Technology, I worked in parallel at a power generation company that produces gas turbine generated electricity. After that I was an employee at a steel production company.
In other words; he has gained broad theoretic and practical metallurgic skills, and they are beneficial to him now.
– Together with companies and the research institute Swerea Kimab, we are designing software where welding operators can enter values for all parameters that effect the weld they're about to make, explains Vahid. Using their figures, we will be able to provide an optimized and fine-meshed welding guideline that ensures unaltered material properties.
Software development will be finalized in late 2019 (DUWELTOOL project).
A new testing method
While working with the research project, Vahid came up with a new idea.
– Welding can affect the microstructure and properties in metallic alloys, he explains. Thus, properties in alloys, such as duplex steels, can change in many different ways.
The standard procedure to study such microscopic changes today, is to heat metal samples in furnaces at different temperatures and durations. This is time-consuming and demands a lot of manual measuring work.
All temperatures in one single sample
– With my method we can subject each single sample to a range of temperatures. One side is placed under a welding arc, while the other side is kept in a water-bath to maintain constant temperature.
For every specific duration, the sample will provide a complete spectrum of temperatures. For all different temperatures, it is then possible to study how the microstructures have changed in only one sample. Thus, one sample using the new method can represent up to 30 standard furnace heat treated samples.
Measuring equipment in the range of SEK 10 million can provide roughly the same information. Vahid's test method, however, amounts to merely a couple of thousand SEK, making it accessible also for smaller enterprises.
– The method can be used for microstructure studies of all metals as well as for additive manufacturing.
The industry shows great interest
The industry monitors both parts of Vahid Hosseini's work with great interest.
– I see this research project as a good example of cooperation between research institutions, the industry and the universities, says Ravi Vishnu who is welding specialist at Avesta Research Centre, one of the steel manufacturer Outokumpu's three research units.
Peter Stenvall is welding metallurgy specialist at the steel manufacturer Sandvik and he states:
– To understand in detail how microstructures develop in metals, is extremely valuable to us within the industry. No single company comprises the resources and competence to pursue an important research project of this dimension, but cooperation has made it possible.
Text and photo: Ulf Axelson
Contact: Vahid Hosseini, vahid.hosseini@hv.se, +46520-22 33 73