29 Jan 2019
"Living a happy but a bit expensive life"
I met two of the approximately 75 new international students at University West for a quick chat about their first days here at University West. One of them is Michelle Steinke, 20 years old from Germany, who appreciates the similarities with her own country, and she sees Sweden as the perfect example of a functioning society: - The Swedes seem to live a happy but a bit expensive life!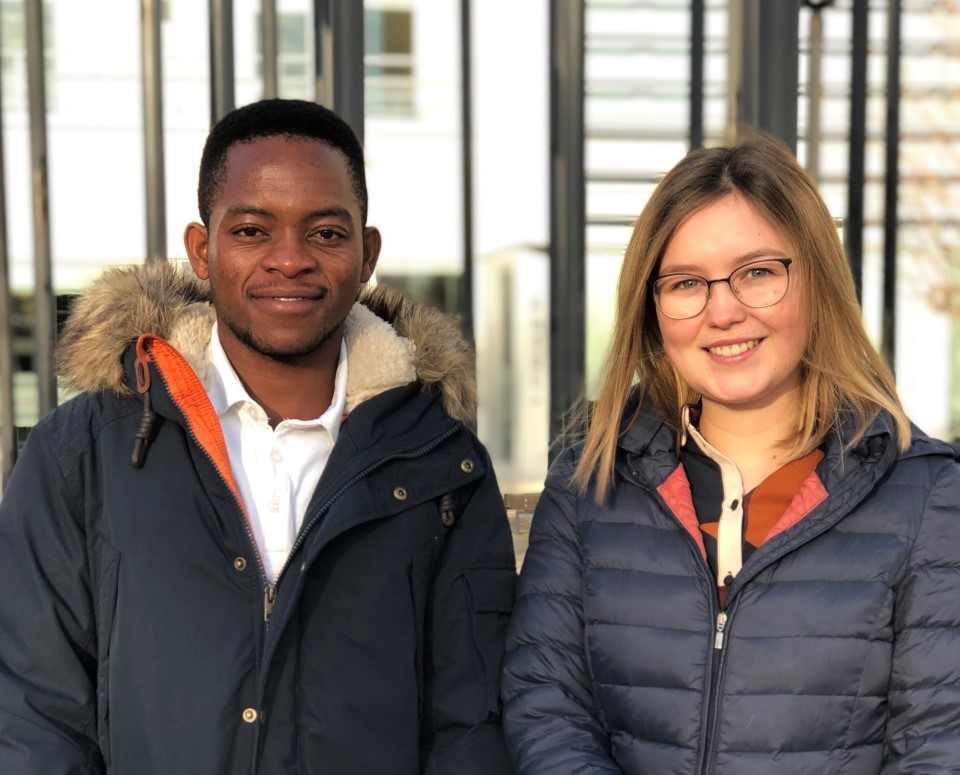 Nurse student Fillemon Shikongo together with Michelle Steinke studying economics.
Along with Michelle is Fillemon Shikongo, 24 years old from Namibia. He is here on internship for this semester within the program Linneus Palme. He is going to be a nurse and is here to get experience from Swedish health care and hospitals.
- I hope to learn a lot about the way you treat patients and health care in general to increase my own knowledge and be able to affect nursing at home.
Fillemon tells us he has already learnt something useful, namely to take off a motorcycle helmet from a neck-injured patient in a secure and safe way.
Wants to stay in Sweden
Michelle hasn't had her first lesson yet but is hoping for a career in Sweden. She studies economics and has since before contacts at BP who have their headquarter in Stockholm. She is very in to languages and is eager to learn Swedish. So besides studying economics she will also follow a language and communication course during this semester. 
- I would like to complement my career, that is I why I'm here. Besides adding new knowledge, being in another country also adds a kind of social development that is useful in the future.
First time travelling
Michelle and Fillemon have of course very different backgrounds coming from various parts of the world. For Fillemon it's his first travel abroad and the first time flying:
- I didn't even have a passport to start with! But I was really happy when I was one of two at my university chosen to go here. In fact I heard of this opportunity already the first year of my education, so it has been a goal for me since then.
Filled with curiosity
Besides learning about his special field nursing, Fillemon is very curious about the Swedish society, the infrastructure, roads and technical solutions. Just to swipe a card going on the bus thrilled him. For Michelle it's quite different, with Germany being comparable to Sweden in many ways:
- I've heard quite a lot about Sweden and the Swedes. You're always on time, value logical and rational thinking, are efficient at work, there is little corruption here and you have a high satisfaction among the inhabitants.
Exchange knowledge
This and also the way information, website and contact worked, when she searched for information about different educations, made her choose University West.
- It felt well-prepared, flexible and welcoming, of course along with the right kind of education I looked for. And Sweden has a very good reputation regarding education!
Fillemon agrees and hopes to get to know Swedish students as well:
- To be able to learn even more it's important to exchange knowledge with others. I recommend the university to provide sufficient skills not only to the current international students but to other generations as well. It's a good platform to exchange knowledge world wide. Knowledge is power and we are capable of acquiring all those!
Snow and mooses
We end our little chat going outside taking a photo of them. Fillemon is really pleased, and should be, with his new winter jacket and hope to see some more snow, maybe try to ski or skate. Michelle on the other hand, hopes to catch sight of a moose or two.  
Text and photo: Anna Hallberg