12 Jun 2017
The art of optimizing multi-robot cooperation
Emile Glorieux investigated how to plan robot motions for material handling in order to make them perform perfectly, "right-first-time", before production start. Thanks to his research results, companies like Volvo Cars are able to produce sheet metal parts faster, more efficiently and with zero defects. On June 9, he presented his PhD-thesis at University West in Trollhättan and now he is addressed as Doctor of Production Technology.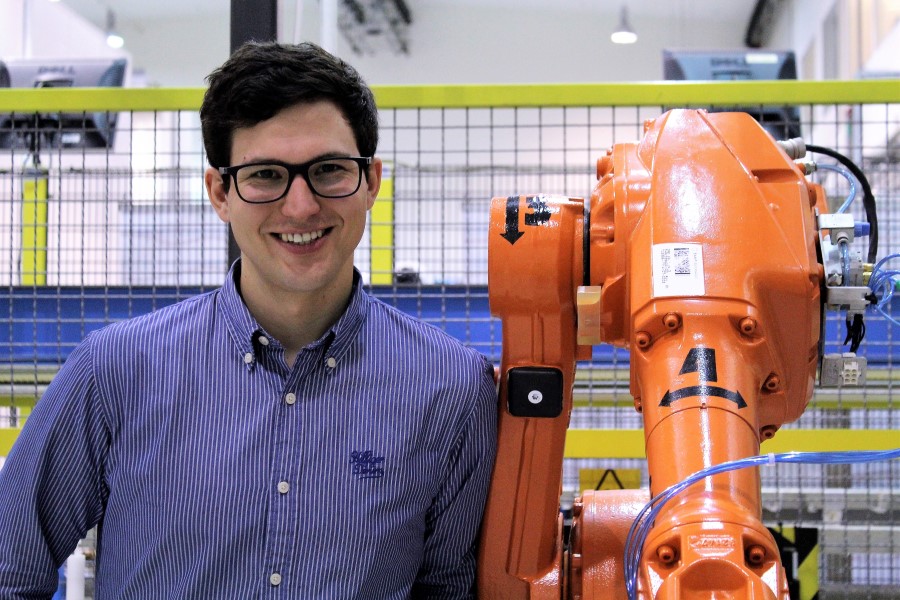 Emile Glorieux has developed new computer-based methods. They allow for fully automatic planning of multi-robot motions in systems that move products or parts from one machine to another in automated production. The focus of his work is specifically on robots that move sheet metal parts, e.g. car body panels in the automotive industry. The issue was to design an optimized work flow where the robots move and accomplish their assigned tasks efficiently right from production start.
– Today, the parameters that specify the robot motions are often tuned manually before, or even during, production. Ad hoc solutions are then tested until you find robot motions and a flow that works, says Emile Glorieux.
– This is rather unreliable because it depends on the operator's experience, and it is not without risk for damaging the equipment. Hence, there is a need for tools to systematically plan robot motions for material handling systems.
– With the new computer-based methods, the parameters are automatically tuned prior to production, using a virtual model of the multi-robot production system. This makes for a reduced ramp up time and a higher productivity.
Shorter production time
Motion planning includes e.g., coordinating robot work, making them move at the right speed and controlling robot actions to avoid collisions. Optimized motion planning and coordination of robotmovements provide opportunities to shorten cycle-time. In addition, production will become more energy efficient, robot wear will be reduced and product quality will be improved.
A unique overall solution
– During the investigations, it became apparent that it is necessary to consider the critical aspects of multi-robot systems, and to consider them as one multi-disciplinary problem. For example, the research therefore also investigates how to optimize the design of the vacuum-cup grippers, which pick up the sheet metal parts, co-adaptively with the motion planning. To obtain an optimized balance you need to look at the overall solution. This has been a challenge and it makes my research unique. In previous research these different issues have only been dealt with separately.
Promising tests at Volvo Cars
By developing efficient simulation models, new mathematical models and computer algorithms, Emile Glorieux has found novel methods for optimizing productivity, energy efficiency and robot system wear. These methods have been tested for case studies at Volvo Cars' press shop and the results are highly promising. The tests show that Emile's method offers huge improvement potential when used in high volume production.
– Making the robots work a few tenths of a second faster is already of great value to a high volume company like Volvo Cars, where time is always of the essence.
When it comes to energy efficiency, Emile Glorieux cooperated with colleagues at Chalmers University of Technology. Furthermore, for investigating how to optimize the gripper-design and the product quality, he set up an international collaboration with researchers at the University of Warwick in UK. The Trollhättan based automation company, Binar AB, has also participated. They deliver robots to Volvo Cars.
Tests in more factories
Emile Glorieux would like to take a new step and perform more tests in real-life production environments to develop his tool.
– I look forward to new challenges within this field of research. I've got more ideas on how to develop applications for high volume production.
After nearly four years of research, Emile Glorieux is now addressed as Doctor of Production Technology. The majority of the work for his PhD-thesis was carried out at the research environment Production Technology West of University West.
His research work was funded by Västra Götalandsregionen under the research grant PROSAM. The purpose of PROSAM is to stimulate strategic collaboration of research efforts within production technology between University West and Chalmers University of Technology. Such collaboration was initiated during the research work for this PhD-thesis, resulting in exchange of expertise and co-production of research results across research groups of the two universities in the Västra Götaland county.
Contact: emile.glorieux@hv.se, +46520223269
Text and photo: Christina Axelson