07 Sep 2018
The first researcher in fast track has arrived
Helwah Hussain Jansson has only been in Sweden for six months. She is from Jordan and has a Ph D in special education and learning difficulties. Now, through Inclusive Internationalization, she has got a place at University West.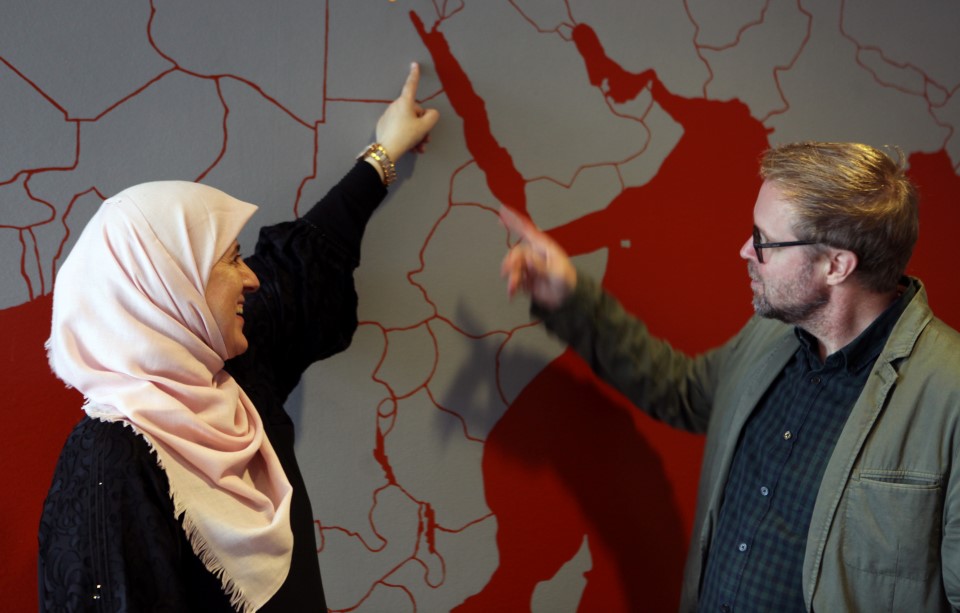 Helwah Hussain Jansson together with her mentor at University West, Martin Molin.
-It feels great! It will be a way for me to get into society faster, improve my Swedish and get the opportunity to develop my research, says Helwah Hussain Jansson.
She has received a mentor at the university, Martin Molin, who conducts research in a similar area within the university's child and youth environment, and they have already had a first meeting on campus.
- It's great! I hope to guide her to relevant colleagues here at University West, but also to help her with contacts at other universities in Sweden who does research in her field. I'm curious, of course, to learn more about her research and see if there are certain areas we can cooperate in, says Martin Molin, whose research focuses on young people with intellectual disabilities.
A fast track - the first of its kind
The Inclusive Internationalization project, which is the first of its kind in Sweden, is a collaboration between the Swedish Employment Agency, University West, University of Borås, Chalmers and Gothenburg University. It is funded by the participating colleges and STINT (Foundation for Internationalization of Higher Education and Research). It is a matter of new arrivals with commenced or completed postgraduate education to give them knowledge of the Swedish university system, as well as individual guidance, mentoring and thus placement at an institution that matches the applicant's research background.
The hope is that after this program they are seeking a doctoral or teaching employment at university. The program is running at half-time in one semester and will give the participants better opportunities to get more quickly into the Swedish labor market.
- University West is active in the society and we take our commitment seriously. So for us it is natural to participate in the project. It benefits both us and those who have the opportunity to establish acquaintance with Swedish universities, says Fredrik Sjögren, coordinator of Inclusive Internationalization at the University of the West.
More about Inclusive Internationalization
Contact: Martin Molin, martin.molin@hv.se, 0520-22 37 46
Fredrik Sjögren, fredrik.sjogren@hv.se, 0520-222 35 87
Text and photo: Anna Hallberg