22 May 2017
The guest professor that makes welding robots smarter
Since August 2016, Sven Goecke works as international guest professor in welding automation at University West. A year off from teaching at the University in Brandenburg, allows him to do research about how a new tool can optimize material control in welding processes. – Our technique can easily be applied in industrial environments and it saves time and money, says Sven Goecke.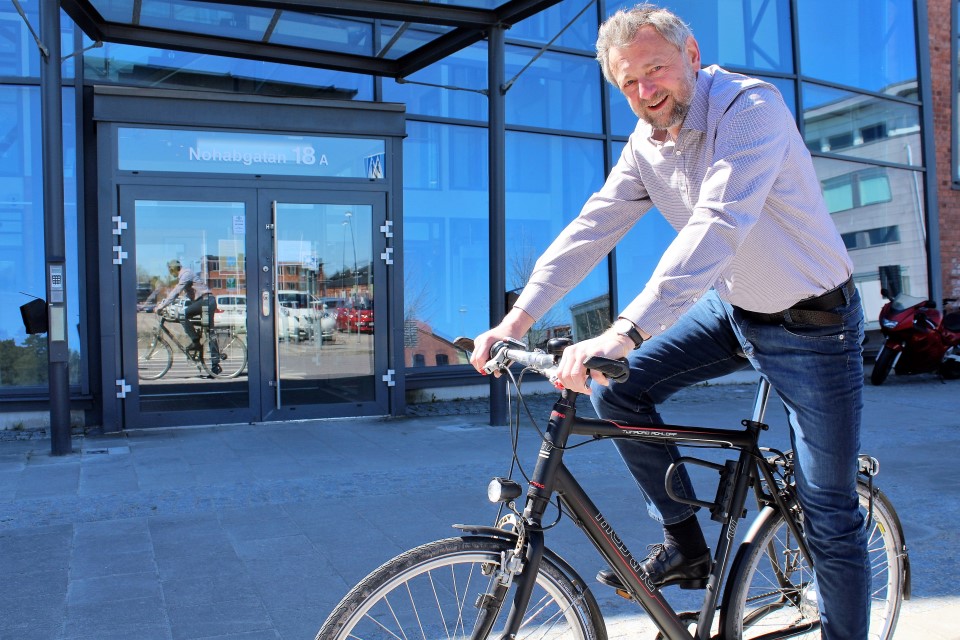 Sven Goecke on his favourite vehicle outside Production Technology Center where he conducts his research.
The suitcase is packed and Sven Goecke puts the final touch to his presentation for the International Conference on Joining Materials in Denmark in May. There he will reveal his research results about how a new tool can provide full material control in a welding process.
– By installing advanced cameras on welding robots, we can measure and visualize the material temperature fields and joint geometry during the ongoing welding, says Sven.
– This enables full control of material affects and allows for adjustments throughout the welding process. Our goal is to make the welding robots smarter and to equip them with sensors such as eyes and with the skills of an experienced human welder.
– A critical factor in welding is how the material reacts while cooling after the welding. It may cause defects in the material such as embrittlement.
– Our tool is based on 2-Colour Thermography. The real-time taken pictures visualize the material temperature in the area on the melt pool, the welding seam and the adjacent region, the Heat Affected Zone HAZ. It´s also possible to control material properties via varying the heat input.
Aiming for "zero defect"
Sven and his research team are using off-the-shelf products and software that have not been utilized in the field of welding before. Their aim is to develop tools that can easily be applied to already existing mechanized welding equipment within the industry.
– Today, industries exert themselves in testing and ensuring quality in welded products. With our tool they can save a lot of time and reduce rejects and waste. It's a step closer to reach "zero defect manufacturing", and it will allow for the industry to achieve hundred per cent quality and reliability from the beginning without reworking.
Showing great interest
Several industries, in different branches of business, have shown great interest in enhancing their welding robots with this tool. Although new and stronger steels, such as the ultrahigh strength steel 22 MnB5, have been introduced on the markets, there are still considerable problems when it comes to joining them, losing more than half of its potential.
– Our next step is to implement the tool in real-life industrial environments. We have plans for a new European collaboration research project that will cover this aspect.
Vast experience from welding automation
When University West invited Sven Goecke to work as a guest professor, it was the first time that he accepted such an offer. Since 2009 he is a permanent professor in Manufacturing Engineering at the Technische Hochschule in Brandenburg with focus on welding automation. He has done broad research and development about Arc and Laser welding processes since 1993, and he has a vast experience from working as Head of R&D at Germany's biggest welding system supplier, EWM. Sven is also an inventor of several patents.
– I really appreciate the opportunity to focus entirely on this research project for a whole year and to work in the well-equipped and well organized research environment at Production Technology West in Trollhättan.
To Sven, international cooperation comes natural. He has a worldwide network of research colleagues and he travels frequently to countries in Asia and Europe to exchange knowledge within his field of expertise. At the end of June he will participate in of the largest and most important "welding conferences" in the world, this time it is held in Shanghai.
Born in Mjölby
Sven really appreciates the opportunity to live and work in Sweden for a whole year. In fact, he was born in the town of Mjölby and he spent his first five years in Sweden.
– Unfortunately I didn't pick up the language, but I understand Swedish quite well.
– Living in Trollhättan during wintertime has been very exciting despite the darkness and not always a pleasant weather. Together with the openhearted and hospitable native but also international colleagues, I've had the opportunity to explore a lot of activities and events, such as the bandy culture, the Swedish cuisine, "tomte-parades", an oyster opening championship and the Aurora Winter Festival with great classic music. There is really a lot going on in Trollhättan.
Text and photo: Christina Axelson