14 Feb 2018
The journey of Brogren Industries
Brogren Industries well illustrates how a midsized company can develop its competence and grow by engaging in cooperative research. – University West is a valuable partner to us. Cooperation opens doors to new competence, new contacts and new business opportunities. We used to be a relatively anonymous mechanical workshop, now we are a supplier of advanced components to the aircraft industry, says Fredrik Olofsson, R&D Manager at Brogren Industries.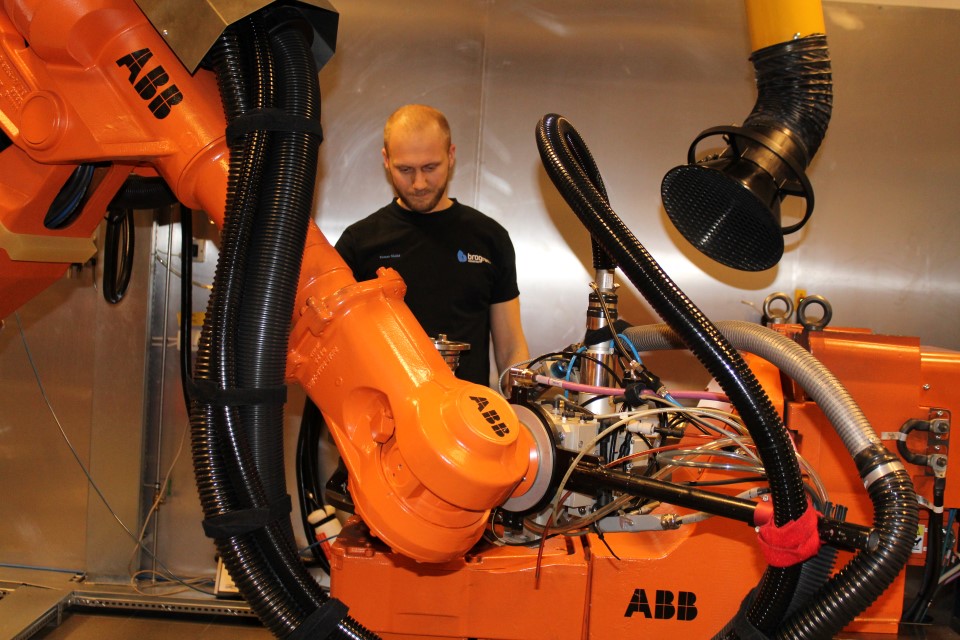 Volvo Aero`s search for suppliers in west Sweden in 2010 became the start of a fruitful cooperation between University West´s researchers at Production Technology Center (PTC) and Brogren Industries in the small society Älvängen.
– We wanted to approach the aircraft industry and thus we needed to expand our competence on processes and laser welding simulation, tells Fredrik Olofsson. In this work, University West has given us important support; among other things they have helped us to seek funding for our educational efforts.
Approved supplier to the aircraft industry
– To us, this journey has been highly developing, explains Fredrik Olofsson. After some years of intense learning, we qualified as suppliers to the aircraft industry in 2012.
– Today, we are skilled to manage the entire processes of manufacturing aircraft engine components. We are one of only a few companies in Sweden that have obtained AS9100 certification. This means that we meet the high quality standards set by the aircraft industry.
Keep updated
GKN Aerospace, former Volvo Aero, has become an important client and business partner to Brogren Industries. Both companies take active part in research cooperation activities led by researchers at University West and PTC in Trollhättan.
– We are engaged in several research projects within laser welding, machining and additive manufacturing. It's useful for us to see what the researchers are working with. They keep us updated with the latest findings in different fields of technology. At the same time we can contribute with both industrial know-how and issues to the researchers.
– The projects provide us with a valuable network that can lead to new cooperation. We also get opportunities to try out manufacturing steps using the advanced machinery at PTC. The short distance between Älvängen and Trollhättan is, of course, an advantage.
Siemens is the largest client
Brogren Industries was founded in 1965 in Älvängen and for many years the company was a traditional mechanical workshop with turning and cutting as specialties. Today, the 100 employees work within three business areas; Aerospace, Gas Turbines and Parts. They have special laser welding and TIG-welding skills where they principally use hard-worked materials in combination with complex geometric demands and quality standards. The largest client is Siemens. Other clients are GKN Aerospace, Saab and Parker Hannifin.
Valuable learning process
The interest for new technology and in-service training permeates the entire organization. Company employees receive current in-service training in cooperation with University West. In parallel, students are invited to Brogren Industries to obtain practical experience and to write papers. This serves the purposes of both spreading knowledge and finding new co-workers.
– Having to continuously face new challenges is a valuable learning process for our employees. At this point we are above all monitoring development within additive manufacturing to see what it may imply for us. It is important for us to stay at the forefront in that field.
Invest time and engagement
Together with University West and a few other companies, Brogren Industries are now seeking funds to develop a process for wire-fed additive manufacturing of metal components (LMD-wire). This may open doors for European cooperation. Fredrik Sikström is one of the responsible researchers behind this venture. He has worked closely together with Brogren Industries in several other projects.
– All our research needs to be relevant to the Swedish industry, explains Fredrik Sikström. Therefore it is essential that progressive companies like Brogren Industries take part in the research projects. They make contributions in many ways; above all by identifying important issues that they struggle with, and also by adding their experience and broad manufacturing know-how.
– It is positive that midsized industrial companies like Brogren want to make contributions in terms of engagement and time. This is what cooperative research is about; giving and taking from all partners. That's when research results really matter.
Text and photo: Christina Axelson