Third-cycle students doing research in production technology are members of the research team in Production Technology West at University West. The team works together with regional experts in the field of industrial engineering at the Centre for Production Technology, where there is a state-of-the-art research lab.
Research in production technology deals with various processes of production in industrial engineering, and most of the projects have the overarching goal of reducing our environmental footprint. Research is focused on thermal spraying, welding, and cutting processes. It also deals with creating flexibility in the automation systems.
The subject area is outlined in the General Syllabus for Studies in Production Engineering. The syllabus also lays out the program's aims and objectives, entry requirements, content and structure.
General Syllabus for Production Technology, 2015-11-30.pdf
Research School SiCoMaP
A research school within the area of production technology was 2012 initiated at University West and expanded 2014. It is funded by the KK foundation and is run in close cooperation with a number of manufacturing industries. The name of the research school is "Simulation and Control of Material affecting Processes" or short SiCoMaP.

More information
Production Technology West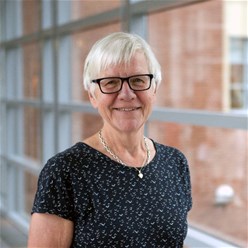 Universitetslektor

Anna-Karin Christiansson

Phone:

0520223268

Room number: PTC