General information
General information and good things to know will be put on this page. We will try to gather the general information sent out through e-mail on this page.
Whom to contact
Here follows information about whom to contact in different matters.
Scientific matters
Contact your supervisors
Courses
Reminders/highlighting upcoming courses: Anna-Karin Christiansson
Detailed course information: Contact the teacher Register and Information on courses on FFUNs page: Courses
Seminars
Seminars and issues in relation to these bi-annual meetings: Registration, organisation, booking etc: Eva Bränneby
Formal issues
Formal issues like contracts, study plan, financial matters, etc: Anna-Karin Christiansson
Website
Public web (www.hv.se/sicomap): Eva Bränneby
News letter: Anna-Karin Christiansson
Other matters
Questions of any other kind: Anna-Karin Christiansson
Policy for Costs in SiCoMaP
This information regulates how the costs for PhD-student activities will be shared between University West/SiCoMaP and the companies. The companies will get reimbursement of expenses according to the individual contracts with University West to cover expenses related to the research studies.
Semi-annual SiCoMaP-seminars
These will take place spring and autumn at different places where PhD-students are located in order to increase the networking between the participating students and supervisors.
Cost for student and supervisor lodging, travel and possible other expenses are covered by the company. One exception is the first seminar in April 2013, where SiCoMaP has promised to take the lodging costs. SiCoMaP covers the costs for organization of the seminars including lecturers, food, activities etc.
Courses
Costs related to the PhD-student´s courses are covered by the company. This includes literature, travels and lodgings. Courses will normally be given on a "2-day's setting" with home assignments and exercises in between the lectures. When appropriate distance participation might be possible. The planned courses are listed in the student's individual study plan. SiCoMaP takes the costs for the course implementation and administration for University West-courses. Costs for other courses are covered by the company.
Reimbursement
The companies will be reimbursed according to the mutual contracts with University West, which implies payment in accordance with the updated individual study plan and study pace.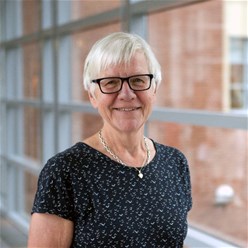 Universitetslektor

Anna-Karin Christiansson

Phone:

0520223268

Room number: PTC