20 Feb 2018
Sourabh's master degree broadens competence at Tooltec
Tooltec in Trollhättan uses strategic recruiting to grow on the market. 24 year old Sourabh Bhoje from India adds new thinking and knowledge through his fresh master degree from University West. At the same time, the company makes considerable in-service training efforts to further improve the skills of its operators.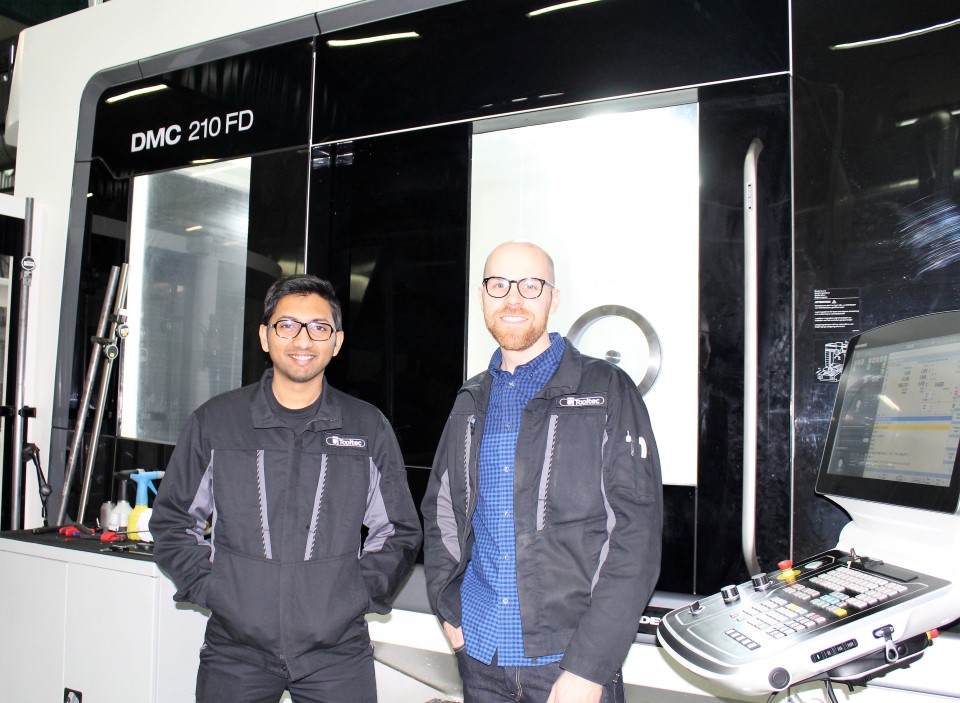 Sourabh Bhoje and Anton Milesic Karlsson at Tooltec.
Finding production engineers and CNC operators has been an issue for Tooltec for quite a while. But competition is fierce. The recruitment of Sourabh Bhoje is a new method that perfectly fits the company's recruiting strategy.
– We seek a good mix of competences and ages in our team. Our co-workers need to have broad knowledge, seeing that they are part of the entire production process and take great responsibilities, explains Anton Milesic Karlsson, manager of production technology at Tooltec.
– With his academic education, Sourabh conveys knowledge and new ways of thinking to our production, states company manager Claes Haraldsson.
– He completes the team in a good way. Even though we have many skilled and experienced engineers, we continuously need to add new competence to meet the demands of future assignments.
Machinery introduction
Sourabh Bhoje started working at Tooltec in January 2018 and began by learning the company's advanced machinery and the overall production processes. Tooltec manufactures high-quality components for aircraft engines, satellite platforms, gas turbines, wind turbines and a number of other finished products. The company is specialized in working with advanced materials by means of turning, milling, drilling and electro-spark machining. Tooltec is one of only a few companies in Sweden that has obtained the AS9100 certification required to be an aerospace industry component supplier. Among Tooltec's clients companies like GKN Aerospace and RUAG Space are found.
An easy choice for Sourabh
Sourabh Bhoje moved from his hometown Kolhapur in India to Trollhättan in 2016. He had heard many good things about Sweden. He decided to add the production technology master program at University West to the engineering education that he already had.
– I looked at several educations in Germany and Sweden and chose University West because they have a clear direction towards work integrated learning.
– To me it was an easy choice to stay in Sweden and seek employment here. Swedish technological companies are among the best in the world in terms of using advanced technology. What tempts me, is to meet greater challenges and therefore I am very happy about my work at Tooltec.
Enjoys variety and colleagues
No doubt, Sourabh enjoys his tasks and colleagues at Tooltec. He feels that he is well looked after and he puts a lot of effort into learning Swedish.
– My tasks vary a lot thanks to Tooltec's wide production range. Counting employees it may be a small company, but it is certainly large in terms of technology level and advanced products.
Plans for growth
– We plan for organic growth and to increase our turnover from 100 to 150 million SEK over the next five years, says Claes Haraldsson. That step requires both in-service training of existing personnel as well as recruiting. We will probably see more engineers with university education here in the future.
Most of the company's 60 employees are CNC operators. They have gradually added new competence as Tooltec has obtained new orders and expanded its machinery.
– The ProdEx-courses at University West have been of great use to us. They have made it possible for our co-workers to enhance their production technology competence. It's an advantage that the Production Technology Center is located so close to us, states Anton Milesic Karlsson.
– By welcoming trainee students from senior high school, as well as co-op-students from University West, we find more opportunities to add new competence for the future.
Text and photo: Christina Axelson