07 Mar 2018
Strong cooperation with GKN Aerospace Sweden
The co-location of an entire department of specialists from GKN Aerospace Sweden in Trollhättan, to a joint arena with University West, is unique to Sweden. GKN sees high values in staying close to the academic research environment. An example is the laser welding technology developed at the joint arena. It has enabled businesses that annually add one billion Swedish kronor to GKN Aerospace Sweden's turnover. In the next step of the long-term research cooperation focus is set on digitized manufacturing.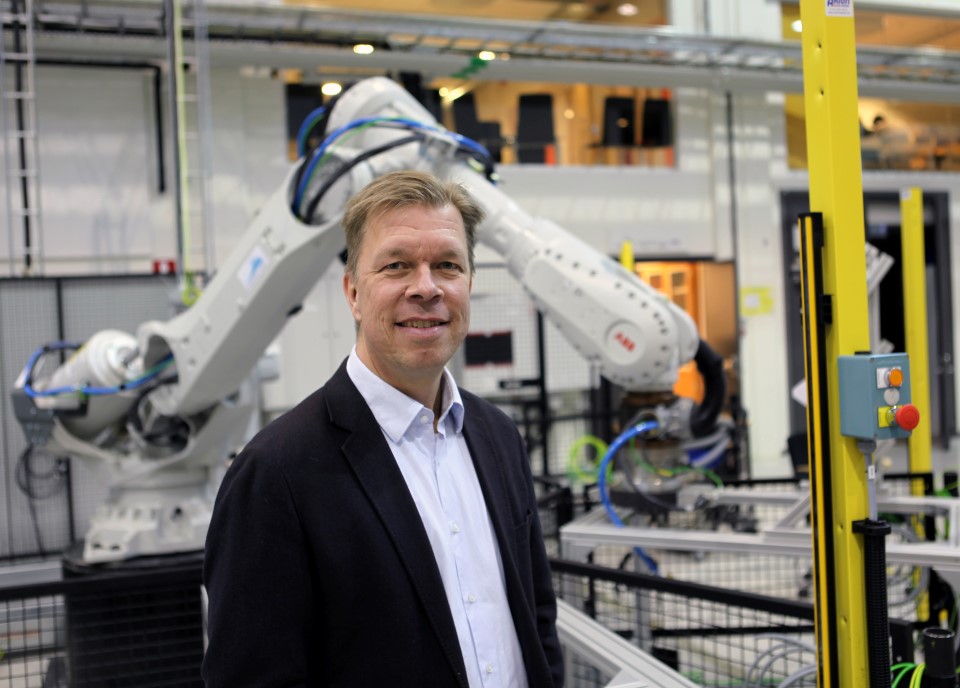 – We highly appreciate the innovative applied research environment at PTC and University West. We want to stay close to the academy, says Peter Emvin who is responsible for technology planning and additive manufacturing at GKN Aerospace Sweden in Trollhättan. (Photo: Andreas Borg)

Peter Emvin holds PhD degree and is responsible for technology planning and additive manufacturing at Engineering at GKN Aerospace Sweden. He started out as a combustion engineer in 1996.
– Our cooperation with University West goes back to 1989 when the Co-op educations were established, tells Peter Emvin.
– By mid 1990s a new dimension was added. We started research cooperation and within only five years it comprised simulations of drilling, thermal spraying and heat treatment.
More than 100 technicians recruited
– Over the years have we recruited at least 100 technicians through this cooperation, states Peter Emvin. They have a bachelor's degree boosted with a one year GKN-training as a part of the Co-op education. These recruitments have been very successful for both for the technicians and for the company.
Peter tells that Co-op also has been used for targeted initiatives such as supporting women to become engineers and to work within the aerospace industry in Trollhättan.
– Co-op continues. It's a concept that we appreciate.
In the early 2000s yet another dimension of cooperation between University West and GKN was added. In close cooperation with University West, GKN chose to relocate parts of its research to the science park Innovatum. This provided opportunities for collaboration between incubator companies, large industries and University West. In 2008 an open arena for joint technology development was formed; Production technology Center, PTC. At PTC University West established their manufacturing technology research and so did GKN.
A global center within GKN
– PTC has been appointed one of GKN Aerospace's Global Technology Centers, and that is yet another telling argument that our kind of cooperation works very well, says Henrik Runnemalm who is Global Research Manager at GKN Aerospace Engine Systems.
A number of research and development financiers have also played substantial parts in the development of PTC, e.g., the municipality of Trollhättan, the Västra Götaland Region, the Knowledge Foundation, Vinnova and the Swedish Agency for Economic and Regional Growth. Main partners and vital cooperation partners to PTC are, in addition to GKN Aerospace Sweden and University West, Innovatum and Swerea IVF (the Swedish Research Institute for Industrial Renewal and Sustainable Growth).
– PTC became an important environment to us, says Peter Emvin. We jointly developed laser welding. It turned out to be a key technology for us and it was inserted in our production. The laser welding technology provides businesses on a yearly basis that contribute with one billion Swedish kronor to the turnover of GKN's operations in Trollhättan.
– Now are we in the process of fully implementing the next key technology; Laser Additive Manufacturing using laser as energy source. It enlarges our laser welding platform. Here we see the potential for several new business opportunities.
Competence provision
The discussion about the key technologies leads Peter Emvin to the question of competence provision. In addition to the technicians from the Co-op program, GKN Aerospace Sweden has recruited a number of PhDs via the cooperation with University West. With their five year research backgrounds, they are specialists at GKN and work with technically advanced products.
– We have a continuous need for PhDs.
The rapid technological progress calls for further development of skills at all positions within the company.
GKN Aerospace Sweden targets automated production to reach zero defects and very high quality. The repeatable processes need optimized accuracy and that requires digitizing. The manual intervention must be reduced to a minimum. To manage a high level of automation the right production skills are required. This calls for increased education, in-service training and work-integrated-learning. Therefore an increased collaboration between University West and GKN can be foreseen for many years to come.
Stay close to the academic world
– The innovative applied research environment at PTC and University West is highly appreciated at GKN, says Peter Emvin. We want to stay close to the academic world. As of today, we have some 20 specialists and 5 industrial PhD students working full time at the arena. They make huge personal progress every day. They also add to academic edge to the company.
– The fact that University West establishes the Knowledge Foundation research environment platform Primus increases long-term research stability. The Knowledge Foundation funding gives the university mandate to operate and profile their research. As a result, we see opportunities for them to respond quicker to new project ideas that are valuable to industries like GKN.
– What is good for University West is good for us. I sense mutual pride in what we achieve together.
Live in symbiosis
A person who shares the feeling of mutual pride is Lennart Malmsköld. He is Assistant Head of the Engineering Science Department at University West and Program Manager of the Knowledge Foundation research environment Primus.
– GKN has been a key partner to us ever since our university was founded, says Lennart. We have lived in symbiosis when designing educations and research and, not least, in the building and development of the PTC arena.
– When GKN Aerospace Sweden gets visitors from important customers like Airbus or General Electric, they proudly bring them to PTC. We share that feeling.
Looking back, Lennart Malmsköld sees how GKN has enriched the university with their needs for technical education and technical research. He claims that GKN adds industrial issues into the academic environment. The company forms new research areas that lie close to applications.
The Knowledge Foundation research environment provides new opportunities. It makes room for discussions about long-term research efforts with solutions that stretch 7 to 10 years into the future.
– We have the potential to deliver world class research results, thinks Lennart.
– We are very pleased with our symbiosis with GKN. You can probably find cooperation that is similar to the one we have. But I have not seen an example where a company has moved into an academic environment in the way GKN has done with us. At the PTC arena they have an entire department featuring 20 senior researchers and 5 industrial PhD students. This is a unique cooperation.
Text: Ulf Axelson
Photo: Andreas Borg