08 Nov 2017
"Opportunities for academic growth"
During an intense week in November, participants from University West, Aalborg University and University of Gothenburg had the unique possibility to participate in a competence development activity in Change Laboratory (CL) with guest professors Yrjö Engeström and Annalisa Sannino.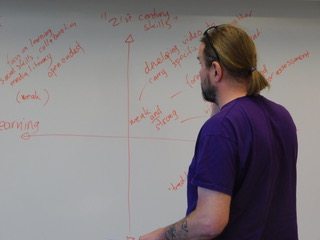 On the photo: Dennis Augustsson, PhD student in Education at University West.

The research environment LINA - Learning in and for the New Working Life - arranged it and Kristina Johansson hosted the activities. 15 participants were introduced in how activity theory can be used for arranging an expansive and transformative learning through the methods of Change Laboratories.
The activity will continue next year when the participants will present their planned CL within schools, migration, health care, industry etc.
-It has been three amazing days together with Annalisa Sannino and Yrjö Engeström! Their extensive knowledge and generous sharing reminded us all of what and how the academic practice could be. During the days we talked about our research projects and discussed with colleagues from University West and other universities. Their guidance were extremely inspiring, challenging and constructive. All participants really look forward to their next visit in March 2018. I would also like to say thank you to the LINA environment for arranging these opportunities for academic growth at University West. It is highly appreciated, says Maria Spante, University West.